Table of Contents
Kelowna Real Estate Stats

February 2023 
At a Glance
Notes -: *The Average Price shown is the latest Median Sales Price Kelowna area Residential Stats for February 2023.
** Single Family home numbers include Single Family & Bare Land Strata only.
The Kelowna Real Estate Full Report
The Kelowna Real Estate Market saw both a bounce-back in sales numbers and a modest uptick in some House prices last month.
Despite this many Buyers have remained on the 'fence', some re-adjusting their parameters due to the latest interest rate rise, and others just unable to find what they are looking for, as certain types of inventory remain low.
First-time buyers are currently faced with the unenviable prospect of qualifying for a Mortgage at a much higher rate, and if they wait, facing the daunting task of a) finding a rental b) coming to terms with the rising costs of rentals, as rental affordability is also an issue.
In theory, reduced buyer competition for listings would give buyers the opportunity to negotiate more favourable terms, but in the Kelowna Real Estate Market 16 homes sold over the asking price, 11 sold at the full asking price, and both the median Single Family home price & Townhome price increased last month.
Kelowna Real Estate Sales February 2023
Compared to last month
Total Sales numbers bounced back by 61.4% last month compared to January 2023, with Single-Family home sales up 90.3%, Condo sales up by 42.3% & Townhome Sales up 8.3%. 
Compared to last year
Total sales were down  54.4%, Single-Family homes sales were down 50.2%, Condos were down by 55.7% & Townhomes were down 60.2%.
I'm sure last months number will be welcome news for Sellers!
Sales to Active Listings
In February 2023 Central Okanagan Single-Family sales to active listings were 15.6%, up from 9.1% in January, Condos were 15.8% up from 12.1% in January, and Townhomes were 16.0% down from 16.1%.
This seems to indicate that we are in a balanced market, with an improving trend.
Inventory Levels Kelowna February 2023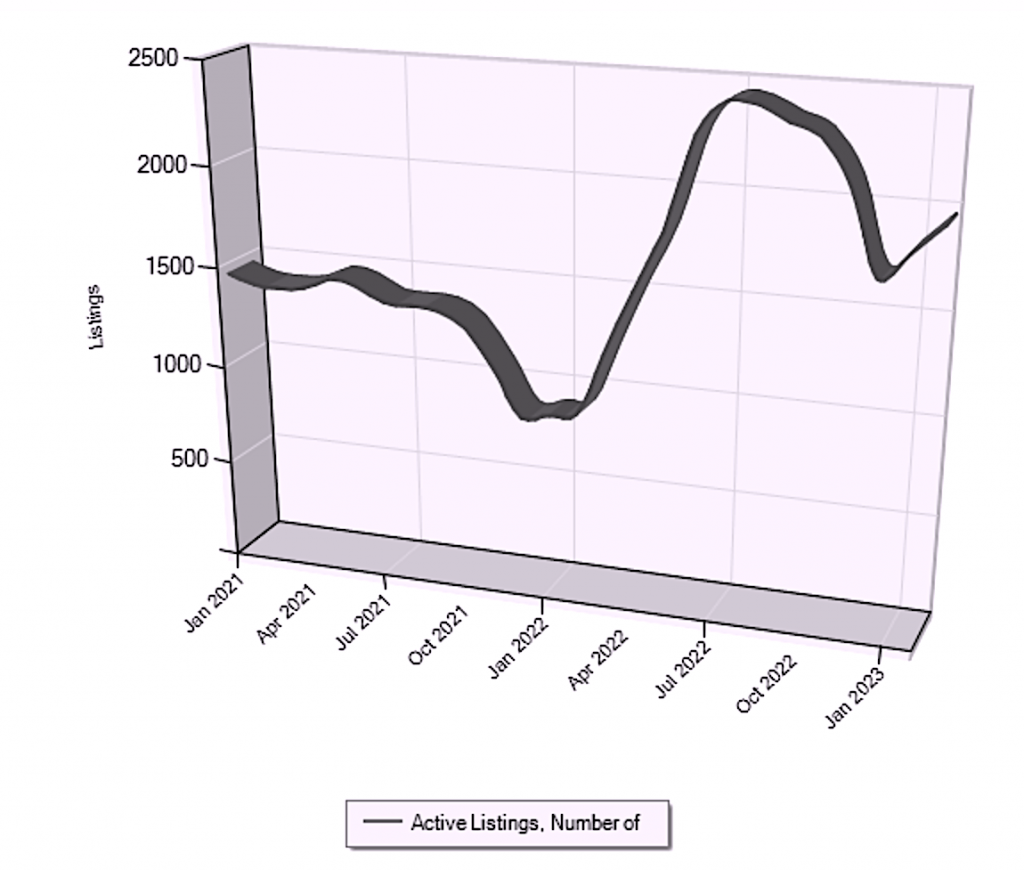 Total Listings February 2023 1979 units listed were up 7.4% compared to Jan 2023
1842 units
and up 112.6% from Feb 2022 931
Single-Family Homes (Homes & Bare Land Strata) Feb 2023 787 units, were up by 8.3% compared to Jan 2023 727 and up by 132.1% from Feb 2022 339.
Condos Feb 2023 468 units, up by 9.3% compared to Jan 2023 373, and up 131.7% on
Feb 2022 202.
Townhomes Feb 2023 243 units numbers were up by 9.0% compared to Jan 2023 223 and up 215.6% from Feb 2022 77.
While in some types of markets, rising inventory might be a danger sign, at the moment it is relatively welcome. Our inventory numbers have been trending on the low side, and we are still seeing some buyers struggling to find what they are looking for.
Kelowna House Prices February 2023
Single Family Homes & Bare Land Strata 
The Median Residential Home sale price in our area for Feb 2023 was $950,000,  Jan 2023 $870,500 Feb 2022 $1,140,950 March 2022 (peak) $1,150,500.
The median price was up 9.1% from Jan 2023 and is down 17.4% since March 2022 peak.
Condos
The Median Condo sale price for Feb 2023 $433,750, Jan 2023 was $451,500, Feb 2022 $495,000 – March 2022 (Peak) $520,000.
The median price was down 3.9% from Jan 2023 &  down 16.6% from the March 2022 peak.
Townhomes
The Median Townhome price for Feb 2023 was $721,000 Jan 2023 $706,000, Feb 2022 $726,250 – Peak was March $786,000.
The median price was up 2.1% last month,  & down 8.3% since March 2022.
IMPORTANT ALERT FOR BUYERS! For those buyers who are wondering whether to wait, the fact that some sector prices rose last month may mean you will have to make a decision soon, especially if prices rise again next month.
Kelowna Real Estate Market – My thoughts this month
1. Interest Rates – Canadians are now holding their breath to see whether the recent interest rate rises are enough of a tool to curb inflation. It certainly curbed demand for housing, but the jury is out on whether interest rates will rise further this spring.
2. Impact of a tight rental market – In January, Zumper (the online rental platform), reported Kelowna as the 5th most expensive City for Rentals. With 1 Bedroom rates reported at $1,980 & 2 Bedroom at $2,250.
3. Kelowna Real Estate Inventory – is rising, but some Buyers are struggling to find what they're looking for, and some properties sold in multiple offers.
4. Prices – in 2 of our 3 key sectors rose last month. It is too soon to say whether this trend will continue, but the facts are we saw a number of homes sell at or above the asking price last month. This is an indicator that we still have a shortage of certain types of inventory, & that the market is through the worst and starting to recover.
Advice for Buyers and Sellers
 

For Buyers – Especially in the more affordable end of the Market, if you see a home you like make an offer! Inventory is tight, & there are early signs that the market may have reached the bottom & be rising again.
For Sellers –
now more than ever it is important to list a home according to the market, and have a very honest conversation with your Agent about the price. Don't panic if you're not getting lots of showings this is normal this time of year, just remain patient & be prepared to negotiate.
---
Kelowna Real Estate Reference Links & Further Information
The Rennie Outlook 2023 – predictions on the Lower Mainland Real Estate Market in 2023 Rennie Outlook Report 2023
Residential real estate investors and investment properties in 2020 Report– Housing Stats Canada Report on the proportion of Investors who own properties in Canada – Govt Home Investors Report 2023
BC Real Estate Market Stats Report February 2023–  BCREA Feb 2023 Report
This month's photo – February 2023 Vineyard View from Phantom Creek Winery – Oliver B.C.
---
About the Author
Trish Cenci is a Residential Real Estate Agent working in Kelowna & the surrounding Okanagan Valley. Trish was Born & Raised in the UK, has a background in Finance & Banking, & emigrated to Kelowna in 2005. For the last 18 years, she has been building a successful Real Estate business and has established a reputation for being a highly respected & professional local Agent helping many Clients, over the years Buy & Sell properties in the area. She feels passionate that clients should be well-informed, in making their Real Estate decisions, and writes regular blog posts about the local Kelowna Real Estate Market.