While overall we have seen Kelowna Real Estate Market residential sales continue on a downward trend, September did bring me a few surprises.
While looking for affordable Townhomes in the Kelowna area, I found myself in two multiple offers, and we were also in a multiple offer on a $1m + West Kelowna Rancher home last week.
So what I am reading into this is that Buyers do have some hesitancy about purchasing, which is affecting sales numbers. Current mortgage affordability is likely to get worse if they don't buy now, hence there are still buyers in the market.  Also, there are still pockets of very low inventory resulting in multiple bidders.
We've also seen Fall buyers coming, as people are still wanting to move into the Okanagan Valley, and buyers and sellers that need to move.
Kelowna and Okanagan Real Estate Sales September 2022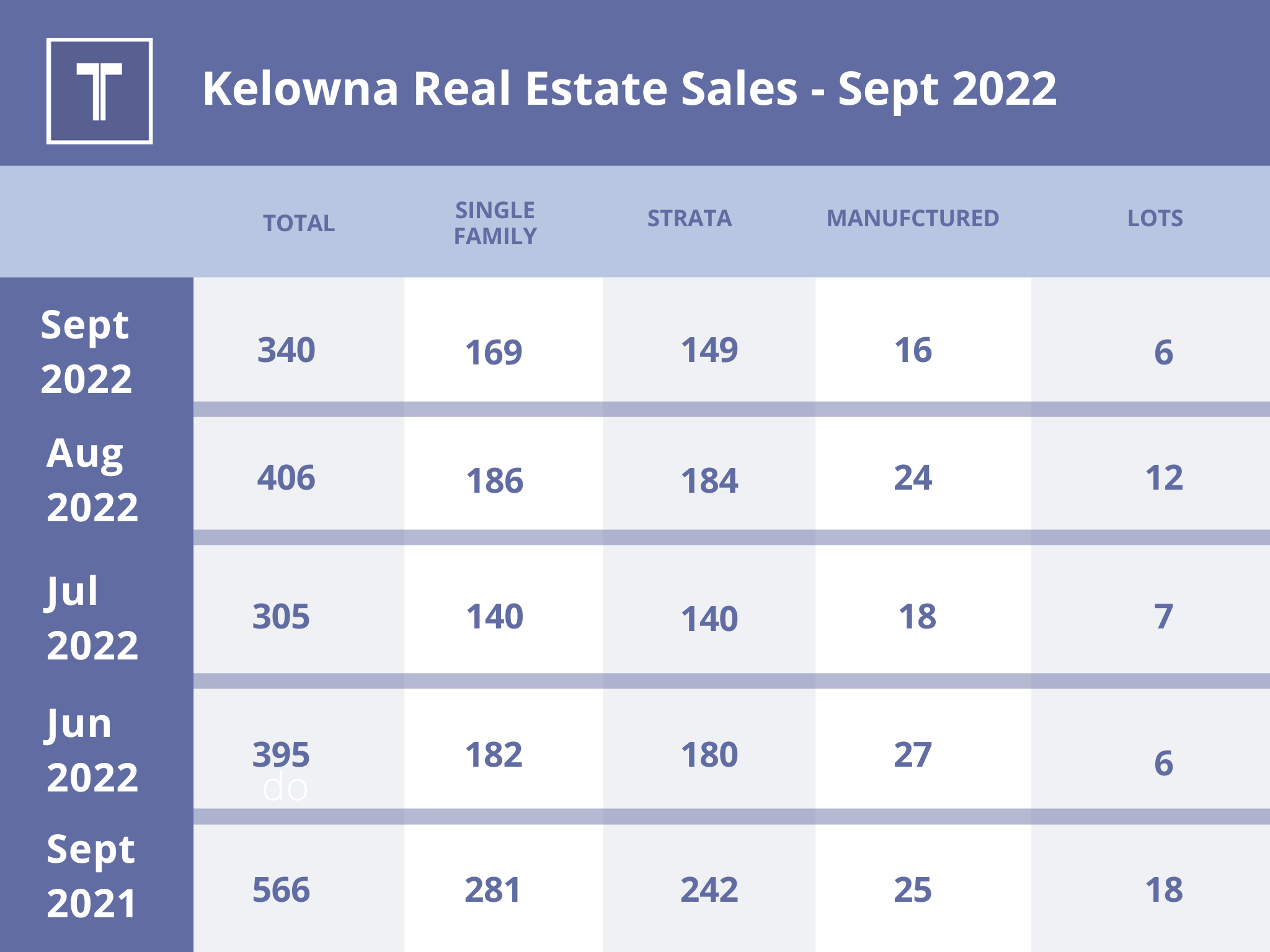 Compared to last month
Sales numbers were down 16.2% last month compared to August, with Single-Family home sales down 9.1% and Strata by 19.02%
Compared to last year
Total sales were down 39.9%, Single-Family homes sales were down 39.8% and Strata 38.4%.
Inventory Levels Central Okanagan July 2022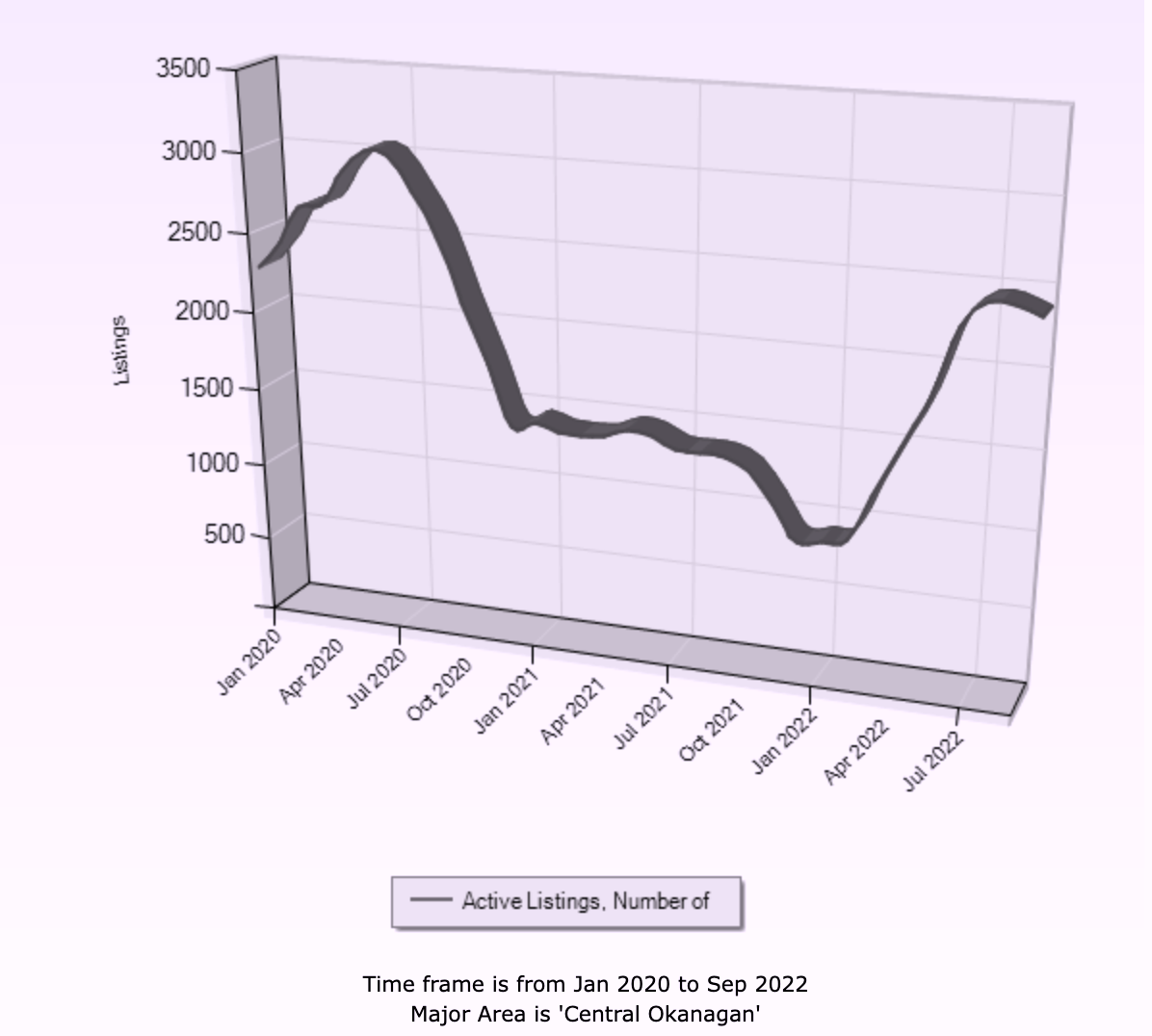 Total Listings Sept 2022 2,396 were down 2.5% on Aug 2022 – 2,457  and up 74.9% from Sept 2021 1,370.
Single-Family Homes ( Homes & Bare Land Strata) September 2022 1,066 August 2022 1,124 down 5.1%  and up 106.9% from September 2021 515.
Condos September 2022 497 down 0.4% on August 2022 499 and up 99.6% on  September 2021 249.
Townhomes September 2022 297 down 1.7% on August 2022 292, and up 104.8% from August 2021 145.
Median Real Estate Prices September 2022
Single Family Homes & Bare Land Strata 
September 2022 $955,000 August 2022 $957,500  2021 $910,000  March 2022 (peak) $1,150,500.
The median price is still above its 2021 levels, currently holding steady but down 17% since March 2022 peak.
Condos
September 2022 $468,250 August 2022 $488,500  2021 $445,000 – March 2022 (Peak) $520,000.
The median price was still above 2021 but down compared to last month &  down 9.9% from March 2022 peak.
Townhomes
September 2022 $700,000 August $697,950 2021 $672,500 – Peak was March $786,000.
The median price is currently holding steady & down 10.9% since March 2022.
Median Single Family home prices seem to have been the most affected so far, which is likely to be most influenced by fewer of the more expensive homes selling.
Kelowna Real Estate Market – My thoughts this month
1. Interest Rates –

The widely predicted Bank of Canada 0.75% interest rate increase happened. While the markets have been predicting a further small increase by the end of the year, some are rumbling that this may have to be higher than they had hoped.  So, we need to watch how inflation moves over the next couple of months, as the could spell further bad news on affordability for some Buyers.
2. Impact of a tight rental market –
in the headlines, only today, there are reports that rental rates for a one-bedroom condo have reached $1,600 p.m. for the first time. An indication that the rental market remains tight.
3. Inventory – numbers don't seem to be continuing to rise. This is likely to be a combination of some people deciding not to move as the market is less predictable, and generally fewer Sellers start to put their homes on the market, in the Central Okanagan, at this time of year. If this trend continues we are likely to see the market be balanced rather than a Buyer's Market.
For Buyers – it remains essential to get pre-approved for Mortgages before you start looking, as rising interest rates are affecting qualification levels.
For Sellers – your property needs to show at its best, your need to be ok with your home taking longer to sell, and should expect that the market will continue to change, so it is essential to work with your Real Estate Professional to keep up to date with market conditions and adapt as necessary.
This month's photo -: Views from the KVR Trail Penticton October 2022
Other Kelowna, BC  & National Real Estate Market Reports
October 2022 Teranet–National Bank National Composite House Price IndexTM