The Kelowna Real Estate Market is going through a shift like all other Real Estate Markets in Canada right now. This post covers the latest Kelowna Real Estate Market Forecast for Q4 2022 & provides a link to the full BC Real Estate Association Report.
Sub-Urban Real Estate Markets, which saw some workers move out of major metropolitan areas like Vancouver or Victoria during the Covid pandemic, are now starting to see some of the largest shifts. Workers are now faced with a return back to the office and fuel costs and rising Interest Rates are cooling demand.
Clearly, Mortgage Interest Rates have been a major factor in slowing the Kelowna Market, but we do not seem to have been as affected by Workers facing a return to the Office.
This Blog Post will focus on the Thompson – Okanagan Area and also features additional questions I put to Brendon Ogmundson, BCREA Chief Economist, about the Kelowna Real Estate Market.
Thompson- Okanagan Real Estate Market Q4 2022 Forecast.
"Housing market activity in the Thompson-Okanagan region has been falling sharply since the second quarter of 2022 when mortgage rates began to rise. We expect sales to remain soft into 2023." wrote Brendon Ogmundson.
Thompson-Okanagan Employment and Economy.
"Employment in the Thompson-Okanagan region has fully recovered from the COVID-19 crisis and set a record in the third quarter. Meanwhile, the unemployment rate is near record lows, hovering around 5 per cent. The region also has strong demographic trends, with Kelowna being the fastest-growing Census Metropolitan Area (CMA) in Canada from 2016 to 2021. The broader Thompson-Okanagan region is currently growing at about 2 per cent per year, faster than the province at large. Furthermore, the BC economy continues to post strong growth according to the BCREA Nowcast, which shows an economy growing at nearly 5 per cent annually.

Although economic statistics continue to look solid in the region, persistent inflation and rising inflation expectations have prompted the Bank of Canada to raise its overnight rate by close to 400 basis points in under a year. This pace of rate hikes is among the fastest in Canadian history, and monetary policy is thought to have its peak impacts on the economy at a lag of 12-18 months. As a result, we expect to see weaker economic growth and higher unemployment by the first quarter of 2023."
The Effects of Mortgage Rates on the Thompson Okanagan Economy & Real Estate
"Mortgage rates are also now close to 5.5 per cent, meaning that homebuyers now must qualify for a mortgage at a rate of nearly 7.5 per cent. Third-quarter sales in the region were the lowest since the second quarter of 2020, just following the onset of the COVID-19 pandemic and were lower than the weak market that prevailed in 2018-19. We expect sales in the Okanagan region to be down 33.1 per cent to 9,500 in 2022 and a further 8.4 per cent to 8,700 in 2023. In Kamloops, we expect sales to decline 27.9 per cent to 2,700 in 2022 and a further 7.4 per cent in 2023, to 2,500 unit sales.

As sales moderate, active listings have been partially recovering. Listings have nearly doubled across Thompson-Okanagan region since January 2022, although they remain below historically normal levels. Both the Okanagan and Kamloops remain in seller's market territory despite falling sales and rising listings. MLS® average price in the Okanagan is expected to average $780,400 in 2022 before declining to 742,300 in 2023. In Kamloops, prices will average 640,000 in 2022 and decline to 625,000 in 2023."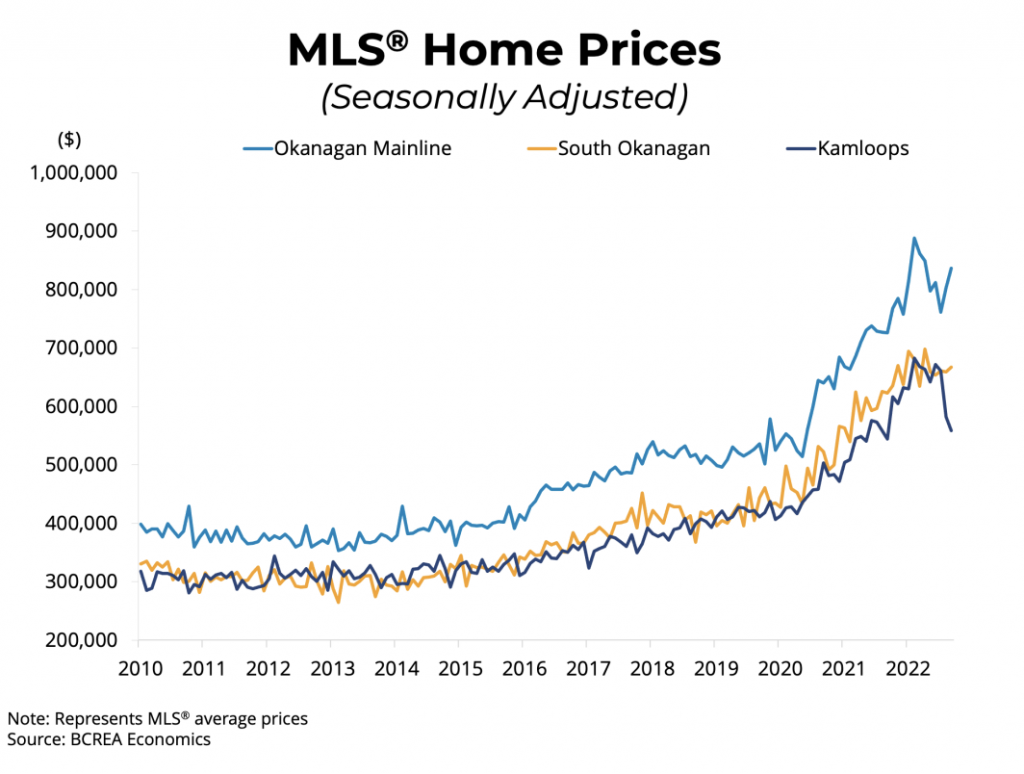 Interestingly, when we look at the seasonally adjusted Home Price graph for the Kelowna and Central Okanagan area, we see an uptick in values, in September 2022, which bucked the trend compared to other areas of the Province.
I asked Brendon about this and his view was-:
"I was pretty surprised by the Okanagan average price in September, but it has reversed course in October so it looks like just a one-month anomaly."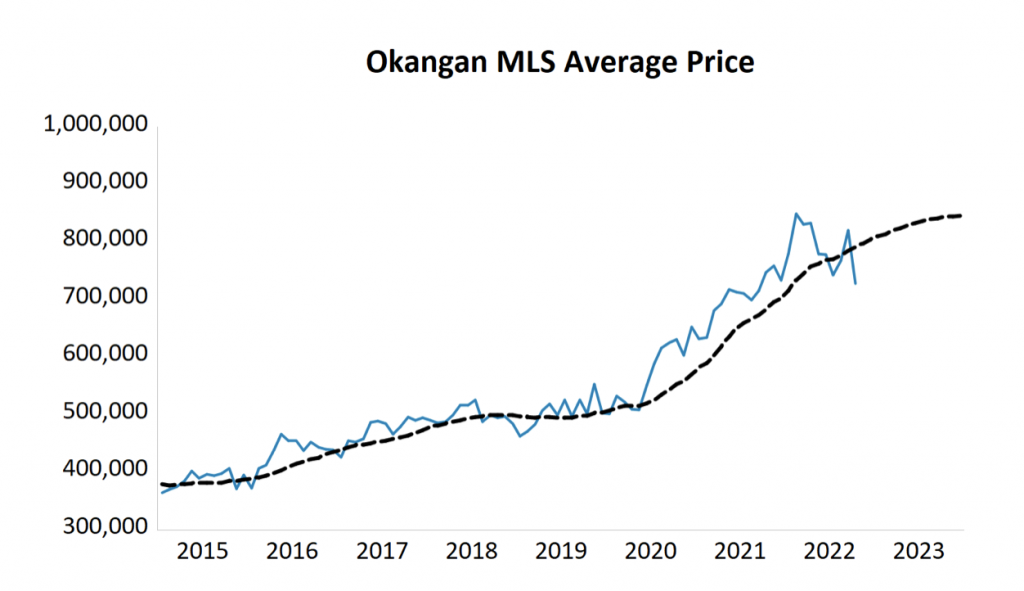 His thoughts on Kelowna Real Estate Market activity for 2023 -:
"The Thompson-Okanagan boasts two of the 5 fastest growing communities in Canadas, Kelowna and Kamloops, so there is certainly a lot of demographic demand spurring the economy and the housing market.

I do think 2023 will continue to see pretty slow housing activity as long as rates stay as elevated as they are.  To see a big decline in prices, we would need much higher inventory levels. Active listings in the Okanagan are still well below where they peaked in 2019."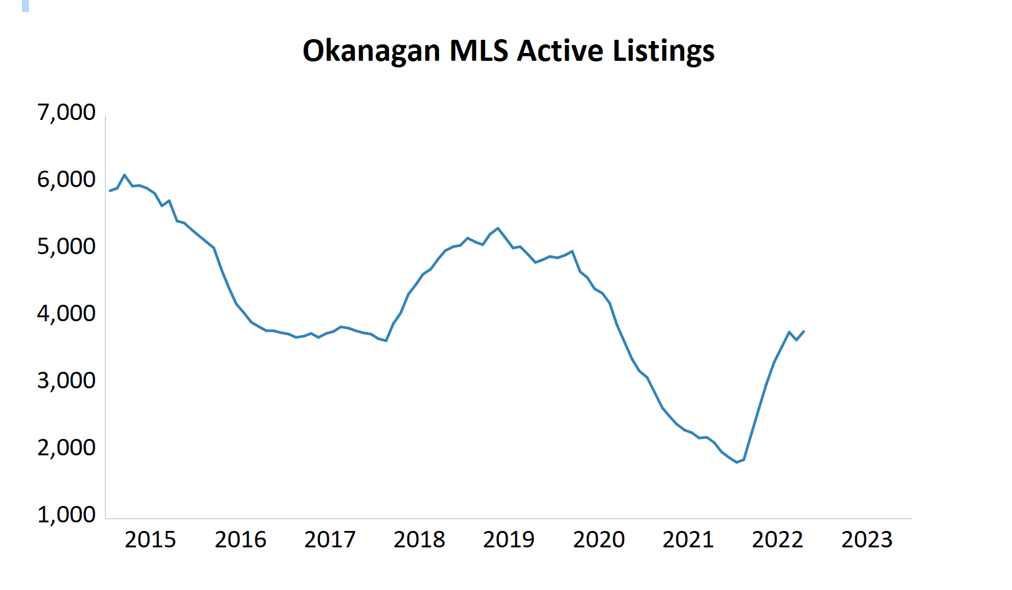 The graph above shows new active listings activity also remains below normal levels.
I also asked whether there were likely to be any other threats to Kelowna Real Estate prices other than interest rate rises, such as Mortgage Defaults. He responded -:
We are watching new listings and mortgage arrears carefully for signs of financial vulnerability, especially from variable rates mortgage holders who may have hit trigger rates or who have adjustable-rate payments. However, we are not yet seeing an uptick in either.
Kelowna Real Estate Forecast on Home Prices November 2022
In his Forecast for Kelowna Real Estate Market prices he said -:
"I think the most probable scenario is for prices to remains somewhat flat at current levels, which means 2023 will start the year down about 10-12 per cent (because prices peaked in early 2022), but for the year as a whole only be down like 4-5%."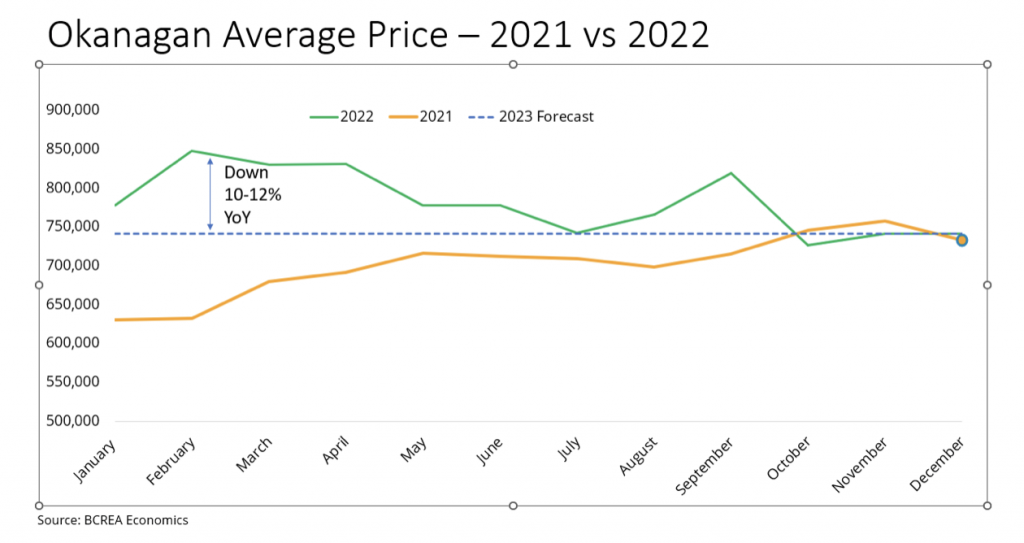 If you have any questions about this post or would like to discuss a free Market Evaluation of your own home, I would be happy to help!
Kind Regards
Trish Cenci
Tel 250 864 1707
E/M trishcenci@gmail.com

---
Other Resource Links
Full BC Real Estate Market Q4 2022 Housing Forecast BC Real Estate Q4 Housing Forecast 2022
Trish's latest Kelowna Real Estate Market Report for November 2022 Trish's November 2022 Kelowna Real Estate Market Report
Mortgage Sandbox 5 Forces Driving the BC Real Estate Market 5 Forces Affecting the BC Real Estate Market 2022 Post