Table of Contents
Kelowna Real Estate January 2023 Summary
The Kelowna Real Estate Market remained subdued in January 2023. This was to be expected, given the aggressive way the Bank of Canada has been increasing interest rates in the last year and the ongoing threat of recession.
Looking at Buyer Activity for December 2022 compared to November 2022, there was an uptick in the percentage of First-Time buyers looking, up from 14.9% to 22%. 58.39% were Buyers from the local area, with 14.77% from the Lower Mainland & Vancouver Island, which was down from the 25% levels we had been seeing earlier in the Fall of 2022.
January also signalled the start of some significant changes that may affect Consumers, as there were several Provincial and Federal Government policy changes that have now come into force. I am sure many of you will have read about these already, but I will provide more details later in this report, for those who haven't.
So let's get into the numbers and look at what might be ahead.
Kelowna Real Estate Market Sales – January 2023 
Compared to last month
Total Sales numbers were down 11.2% last month compared to December 2022, with Single-Family home sales down  22.6% but interestingly Strata sales were up by 6%. This could indicate the first real signs of affordability affecting Buyers purchasing power in our Region.
Compared to last year
Total sales were down  70.7%, Single-Family homes sales were down 75.3% and Strata were down by 61.9%.
December 2022 and January 2023 sales are the lowest number of sales in the Kelowna and Central Okanagan Real Estate Market in the last 10 years. T
he last time sales were under 200 was in January 2019.
To put this into perspective, yes, the sales numbers are very low, but we had just come from a period of sustained high sales.
Inventory Levels Kelowna & Central Okanagan January 2023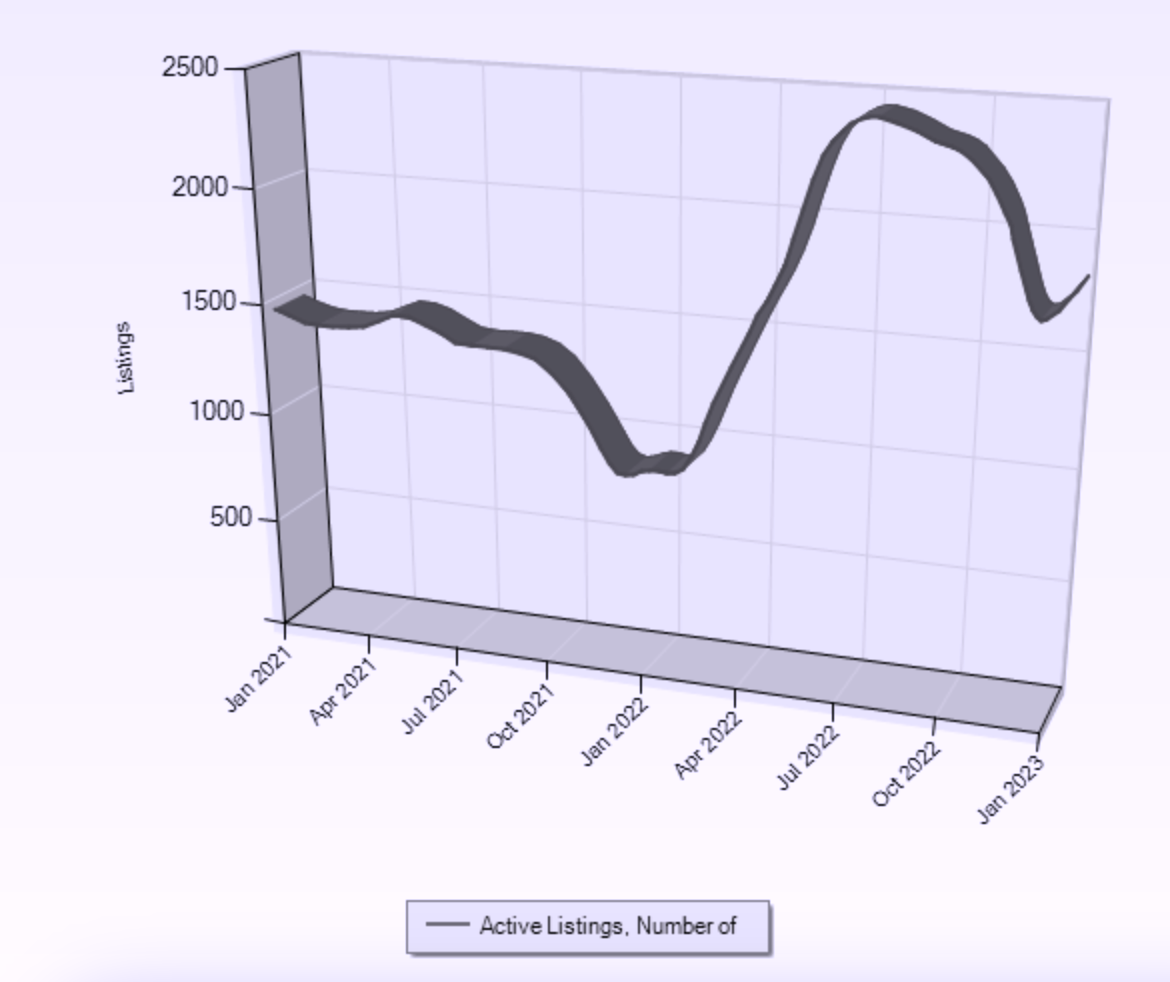 Kelowna Real Estate – Total Listings 
January 2023 1842 units listed were up 7.2% compared to Dec 2022 1719 units and up 102.6% from Jan 2022 909
Single-Family Homes (Homes & Bare Land Strata) Jan 2023 726 units, were up by 1.1% compared to Dec 2022 1,719 and up by 139.6% from Jan 2022 303.
Condos Jan 2023 428 units, up by 14.7% compared to Dec 2022 373, and up 117.3% on  Jan 2022 197.
Townhomes Jan 2023 231 units numbers were up by 3.6% compared to Dec 2022 223 and up 143.2% from Jan 2022 95.
The rise in inventory was to be expected last month, with such low sales numbers. It is interesting talking to fellow Agents, who currently have buyers looking for certain types of affordable property, are finding inventory tight, and are still seeing the occasional multiple offers.
Kelowna Median Real Estate Prices January 2023
Single Family Homes & Bare Land Strata 
The Median Residential Home sale price in our area for Jan 2023 was $870,500,   Dec 2022 $889,000 Jan 2022 $1,020,000  March 2022 (peak) $1,150,500.
The median price fell 2% from Dec 2022 and is down 24.3% since March 2022 peak.
Condos
The Median Condo sale price for Jan 2023 was $451,500 , Dec 2022 $471,675 , Jan 2022 $485,000 – March 2022 (Peak) $520,000.
The median price was down 4.3% from Dec 2022 &  down 13.2% from the  March 2022 peak.
Townhomes
The Median Townhome price for Jan 2023 was $706,000, Dec 2022 $637,500, Jan 2022 $667,000 – Peak was March $786,000.
The median price was up 10.7 % last month, up 5.8% on Jan 2022 & down 10.2% since March 2022.
Townhome prices seem to be performing much better than other sectors of the Kelowna Real Estate Market. This could signify a change in Buyer habits away from Single Family homes as Buyers struggle with gaining mortgage qualification.
Kelowna Real Estate Market – My thoughts this month
1. Interest Rates – The Bank of Canada has signalled that they are going to hold off on any further interest rate rises for now. It remains to be seen whether this will be enough to bring down inflation sufficiently, given the current employment situation, with so many jobs unfilled. 
2. Impact of a tight rental market – Vacancy rates are still very low, so there remains pressure on the rental market. With higher interest rates I have seen several reports of Developers being put off building further purpose-built rentals, for now. Although, I am still seeing a number of permits going before the City of Kelowna for new rentals.
3. Kelowna Real Estate Inventory – numbers have remained steady here in the Kelowna Real Estate Market. These numbers are likely to increase again as we head into Spring, but we are not expecting a huge increase in stock, as Sellers are prepared to wait for the Market to come back. 
4. Prices – Expect to see some downward price pressure on the higher-priced homes, in the first half of the year. But for well-priced Townhomes & some condos, I expect competition to be quite reasonable. According to the recent BCREA Guide to Recessions & the BC Housing Market, "historically, home sales tend to lead the business cycle, starting to decline many months before the start of a recession. By the time the recession begins, sales are typically near their nadir."
Advice for Buyers and Sellers
 

For Buyers – With interest rates continuing to rise, it is important to keep in touch with your Mortgage Provider / Broker to make sure you are up to date on your Mortgage qualification information. if you see an affordable townhome you like, view it immediately!
For Sellers – Make sure your Property Shows well, be as flexible as you can with showings and be prepared to negotiate with Buyers, as their first offer to generally a starting point, so don't take it personally! If you don't need to sell now, you may decide to wait, particularly if you are downsizing. 
It may be the middle of the year before we see the Real Estate Market hit its low, but it is likely to be 2024 before interest rates start to come down again.
Changes in BC and Federal Real Estate Rules & how they will affect the Kelowna Real Estate Market
Changes to Strata Age and Rental Restrictions – BC –

On November 24, 2022, Bill 44, the Building and Strata Statutes Amendment Act, 2022 (the "Act"), was enacted and removed most rental and age restrictions in strata buildings.  The amendments became effective immediately on November 24, 2022.
Bylaws that prohibit the rental of strata lots are no longer enforceable. All strata lots can now be rented out.
Bylaws that enforce only a certain number of rental units within a strata building are no longer enforceable.
Prohibitions on short-term rentals (less than 30 days) are still allowed and enforceable.
Any bylaws restricting the age of persons who may reside in a strata lot for persons under 55 years are no longer enforceable.
There is no obligation for strata corporations to update their current bylaws to reflect these changes; however, they should note that some of their bylaws will no longer be enforceable.
This was a Provincial decision, with the BC Government hoping this make more properties available for those struggling to find rental accommodation.
In the Kelowna Real Estate Market there are several buildings where no rentals were allowed and that had +19 or +45 age restrictions, so it will be interesting to see if this affects demand and ultimately prices in these complexes.
2. Prohibition on the Purchase of Residential Property by Non-Canadians Act – Federal – prohibits Foreign Buyers from purchasing certain types of Residential Real Estate in many areas of Canada.
As the number of Foreign Buyers who purchase Residential Properties in BC is a very small percentage of our total Buyers, I am not expecting to see a dramatic effect on the Kelowna Real Estate Market.
3. Buyer Rescission Period -BC– Gives purchasers of certain types of Residential Real Estate the option of rescinding their offer within 3 days of acceptance of a Contract, at a cost of 0.25% of the agreed upon purchase price.
As the Kelowna Real Estate Market has already been substantially cooled by interest rate rises, so we are not seeing so many subject-free multiple offers, this is not likely to affect too many Buyers and Sellers for the foreseeable future.
Kind Regards
This month's photo -: Winters Day on the Okanagan Rail Trail by Kalamalka Lake
---
Links to access additional Kelowna & BC Real Estate Economic Reports and Information.
Full details of the changes to Strata Age and Rental Restrictions. – November 24, 2022, Bill 44, the Building and Strata Statutes Amendment Act, 2022 Link to full details of the Amendments
Prohibition of the Purchase of Residential Real Estate by Non-Canadians – Details of Foreign Buyers Ban
Home Buyer Rescission Guide Link to Buyers Rescission Guide
Central 1 2023 – 2025 Housing Outlook for BC – link to BC Housing Outlook Report 2023 – 2025
Central 1 Credit Union Rental Report for 2022 Central 1 2022 Rental Report details the stresses being experienced by Renters as Vacancy Rates continue to fall.
BCREA Guide to Recessions & the BC Housing Market Link to BCREA Housing & Recession Guide
Trish's Quail Ridge  & UBCO Real Estate Market Report January 2023 Quail Ridge UBCO Annual Housing Report Jan 2023